|
|
|
|
LAB22 media preparator
Are you looking for a good media preparator to prepare high-quality media for your plantlets, but without all premium features?
Lab Associates also offers the 'LAB22' media preparator models. The 50 and 70 liters machines are water-driven and have a cycle time of ca. 50-55 minutes, where the 100 and 150 liters machines are steam-driven and have a cycle time of ca. 55-60 minutes. The 'LAB2' media preparator models are highly durable and contain only quality components like sanitary valves.
It comes with a small PLC screen for process control and check temperature graphs (optional). There is no need to autoclave your dispensing tube separately. Thanks to the built-in steam generator the dispensing tube is automatically cleaned and sterilized by steam during the sterilization process. The dispensing program can therefore start immediately when the sterilized medium has reached the desired dispensing temperature.  
Our media preparators are built according to the European guidelines (CE/PED) and based on more than 30 years of experience. The 'LAB19' media preparator is also available with other certificates (e.g. UL, ASME U-stamp)  if required.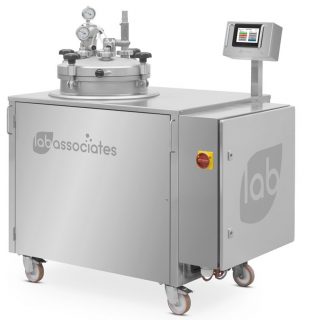 Features of the 'LAB22' media preparator:
Available in 50, 70, 100 and 150 liters
Sanitary valves
Small PLC screen to control the media preparator and check temperature graphs
Built-in steam generator is used for sterilizing the dispensing valves and tubes
Vessel lid with safety controls and option to add ingredients easily and sterile after the sterilization process
No caramelization of sugars 
Magnetic stirring bar
Add-on options for the 'LAB22' model:
Silent compressor for compressed air (instead of using house air)
Semi-automated dispensing unit with optical cell
Well-dimensioned water systems (demi-water or reversed osmosis systems)
No break power supply/UPS
Key features
LAB22 media preparator
Available volumes (in litres)
50, 70, 100 and 150 liter
Heating process
Hot water: 50L and 70 L
Steam: 100L and 150L
Total sterilization process time (60 °C – 121°C – 60°C) incl. 15 min sterilization time at 121°C
ca. 50-60 min (depending on max. vessel capacity)
Stirring mechanism
Basic rectangular bar
Error detection
Yes
Extended detection
No
pH check (at desired and hold temperature)
Yes
Touchscreen control panel
5″ HD capacitive glass screen
Adjustable sterilization time, sterilization temperature, dispensing temperature
Yes
Adjustable media programs
No
Adjustable system
No
Graphical representation of temperatures and pressures
Optional
Graphical representation of batch durations
Yes
Overview of historical process data (up to 4 weeks)
Optional
4G / wifi connection
No
Ethernet connection
No
Administrator access
No