|
|
|
|
Media preparators
Premium model
The steam-driven 'Premium' model is the fastest and most reliable large-volume media preparator on the market.
LAB19 model
The 'LAB19' model is our basic large-volume media preparator, which focuses on one thing: producing high-quality media!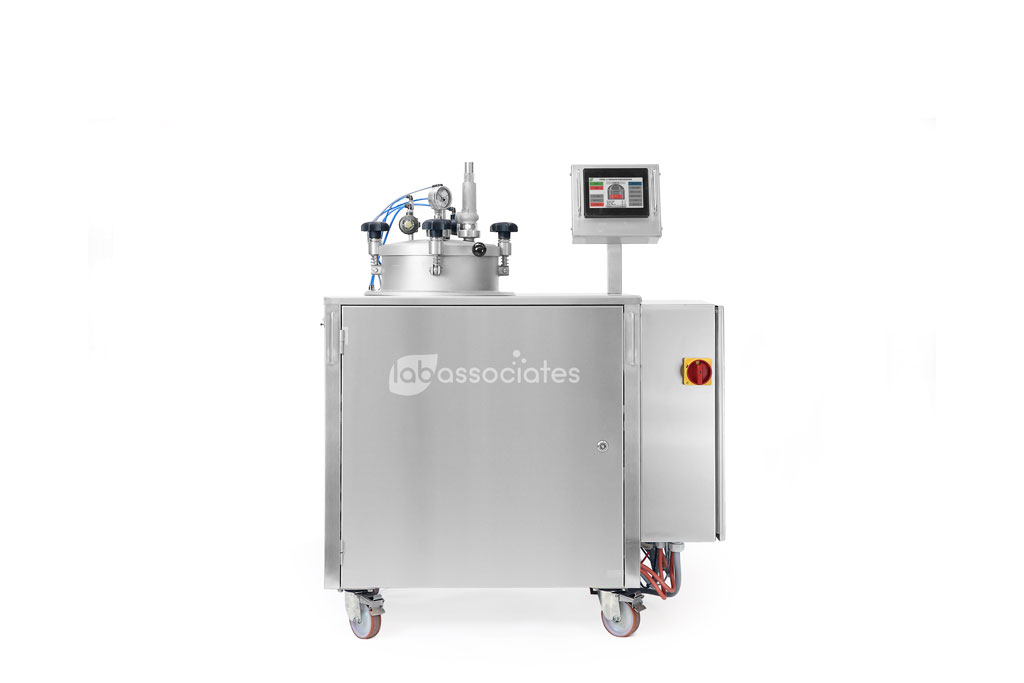 Research model
The 'Research' model is the perfect solution for fast, reliable and efficient production of smaller media batches.
Fast cycle
The fast heating and cooling cycle provides a high level of flexibility towards the media production. Our machines can be operated up to 6 times per 8 hour workshift.
High-quality media
The short heating cycle and therefore very fast sterilized medium will not only increase the resistance against diseases of your plantlets, but will also reduce the growth cycle time or increase the multiplication rate.
Reduced operational costs
Due to the fast cycle and high level of efficiency, cost benefits can be realized on human labor, media ingredients, energy, water consumption, etc. .
Low maintenance
We only use the highest quality components to assure low maintenance and extensive life cycle of the machines.
User-friendly
The high-resolution touchscreen assures a very easy operation of the machine, including a high level of data traceability.
PLC panel
High quality 5", 7" or 10" HD capacitive glass touch screen, with user friendly layout including among others graphical representation of batch data.
Certified parts
Our machines are being manufactured making use of high quality and certified components. Different types of certifications are possible on request.
Magnetic stirring mechanism
Our different stirring mechanisms (basic or advanced) all focus on good mixing of your media recipes in all stages of the process (heating, sterilizing, cooling, and dispensing).
Key differences between our media preparator models
---
Model
PREMIUM
LAB19
RESEARCH
Max volume
50, 70, 100 and 150L
50, 70, 100 and 150L
20 and 30L
Heating process

Steam

Hot water/steam
Hot water
Cycle time *

ca. 30 - 40 min

ca. 50 - 60 min
ca. 40-50 min
Stirring mechanism

Advanced

Basic rectangular bar

Advanced

Error detection basic

Yes

Error detection extended

Yes

No
Optional
Touch screen control panel

10" HD capacitive glass

5" HD capacitive glass
7" HD capacitive glass
Adjustable media programs

Yes

No

Yes

pH check

Yes

No

Yes

Graphical representation**
Yes
History overview***
Yes
4G / wifi connection
Optional
Ethernet connection
Optional
Administration access
Optional
* Cycle time from 60° C, 15 minutes of sterilization at 121° C and back to 60° C depeding on media vessel volume and capacity usage. Estimated time is based on media vessel volume and max capacity usage.
** Graphical representation of temperature (All models) and pressures (Premium only).
*** Overview of historical process data (up to 4 weeks)
Media production comparison between media preparator and autoclave
---
| | Media preparator + 'plastic' culture vessels | Autoclave + glass jars |
| --- | --- | --- |
| Reduce operational costs | | |
| Initial investment | | |
| Labor intensity | | |
| Media quality | | |
| Automation level | | |
| Machine life cycle | | |
| Machine reliability | | |
| Re-usable cultivation vessels | | |
| Process data traceability | | |